Administrator
Developer
Moderator
Administrator
Builder
Hey there, today we're going to take a quick look at how easy it is to link your Minecraft account into our Discord that way you'll be able to upgrade into the "Member" rank.
Member rank gets benefits over our Guest rank, including access to virtual chests via /pv, access to 5 sethomes, and a fancy prefix.
Step 1:
Joining the Discord.
Joining the Discord server can be done a few ways:
Click Me!
OR
Use our "Mini Discord" widget on the side navigation of the forums page.
OR
/discord command executed in game.
Step 2:
Beginning the link (Discord).
To begin the link process simply head over to our #bot-commands text channel, and run the command "!link"



Step 3:
Finishing the link (Discord-Minecraft)
After executing the link command you'll receive a private message from our bot with more information on how to link your account.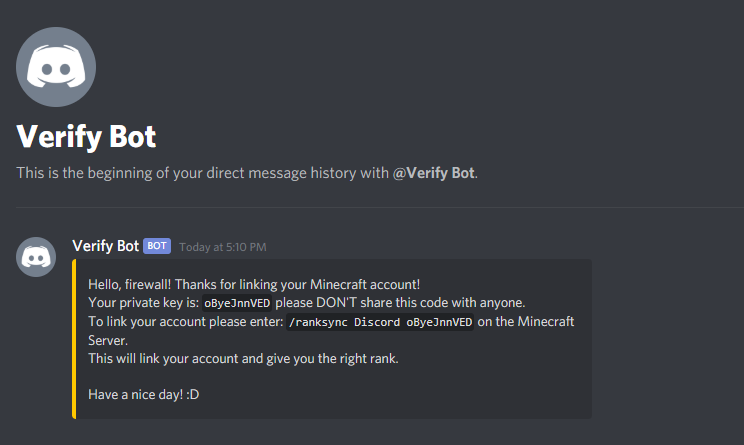 Every users private key is unique and they should not be shared, be quick with your linking though because once the process begins you'll have 5 minutes before your code expires.

Simply copy the "/ranksync Discord <id>" command and paste it into your chat in game.



Congrats, you're now linked!